Clubhouse
The Country Club of Arkansas clubhouse is unique to the area offering a spacious 120′ x 30′ covered patio area which overlooks both the starting hole and the stunning finishing hole. In addition to being a daily gathering place for CCA's many golfing members, this comfortable setting has also played host to hundreds of central Arkansas' largest and most successful golf outings.
During the spring and fall it is not uncommon to hear the music of a live band playing well into the night as The Country Club of Arkansas entertains its members with seasonal entertainment under the stars.
The modern 3,500 square foot clubhouse features a tasty snack bar area with indoor dining along with a fully stocked bar, and a fully stocked golf pro shop where you can find the latest in golf equipment, footwear, and apparel.
Practice Facilities
The Country Club of Arkansas's large practice facility was built by golfers for golfers. It is the largest, most complete facility found at any public-access facility in central Arkansas. It features a spacious 25 station driving range with target greens at 85 yards, 135 yards, 170 yards, and 225 yards, a separate chipping/short-game area complete with a sand bunker, and a 10,000 square foot green on which to hone those important putting skills.
The 419 Bermuda turf on the CCA practice tee is equal in quality (and mowing height) to a well-maintained fairway.
The driving range opens thirty minutes prior to our first daily tee time and closes just before dark seven days per week. The range is a focal point whether used as a pre-round warm-up site, or the temporary home of a long practice session.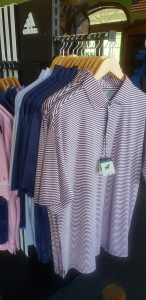 Pro Shop
The Country Club of Arkansas proshop is often the focus of activity. Staffed by PGA Professionals the proshop is fully stocked with the latest in golf equipment, apparel, footwear, and golf accessories. Prominant brands include Titleist, Ping, Cobra, Callaway, Cleveland, Foot-joy, Adidias, Ashworth, Cutter & Buck.
Club Fitting
PGA Professional, Tim Jenkins, is an authorized Ping club fitter, and demo clubs from leading brands are usually available. To make a club-fitting appointment please call the club at 501-851-0095. Club fitting sessions take place on the driving range and last 15-30 minutes costing $25. When placing an order the fitting charge is deducted from the purchase-price of the clubs.